How To Fix 98% Stuck When Install PUBG Mobile in Tencent Gaming Buddy (Full Tutorial)
If you play Games on Mobile you must know about PUBG because this is the most Popular game that is played by many people at one time. Tencent recently launch their own emulator to play PUBG Mobile on PC. but many people face a problem where the emulator stucks at 98% and can't open. Here is the solution.
A. Turn Off the Antivirus
There is a case that there is a problem during the installation process or stuck. You just need to close the emulator and start to turn off the antivirus. Then, reopen the emulator and click the continue button. Wait until the installation process is done. When the process is done, you may turn on the antivirus.
B. Turn Off the Antivirus and Reinstall the Emulator
If the first step above is failed, you can do the second step here. The first thing to do is turn off the antivirus and reinstall the emulator. It takes time than the first step but the chance to finish the installation process is bigger.
C. Close and Reopen the Emulator
When the process is stuck in 98%, you may close the Tencent Gaming Buddy emulator first. Just make sure that it has been closed perfectly by checking it on the Hidden Icon menu.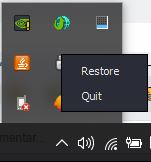 Then, click the right mouse on the Tencent Gaming Buddy and choose quit. Now, try to reopen the emulator and click the continue button to continue the installation.
Download Tencent Buddy – From Here